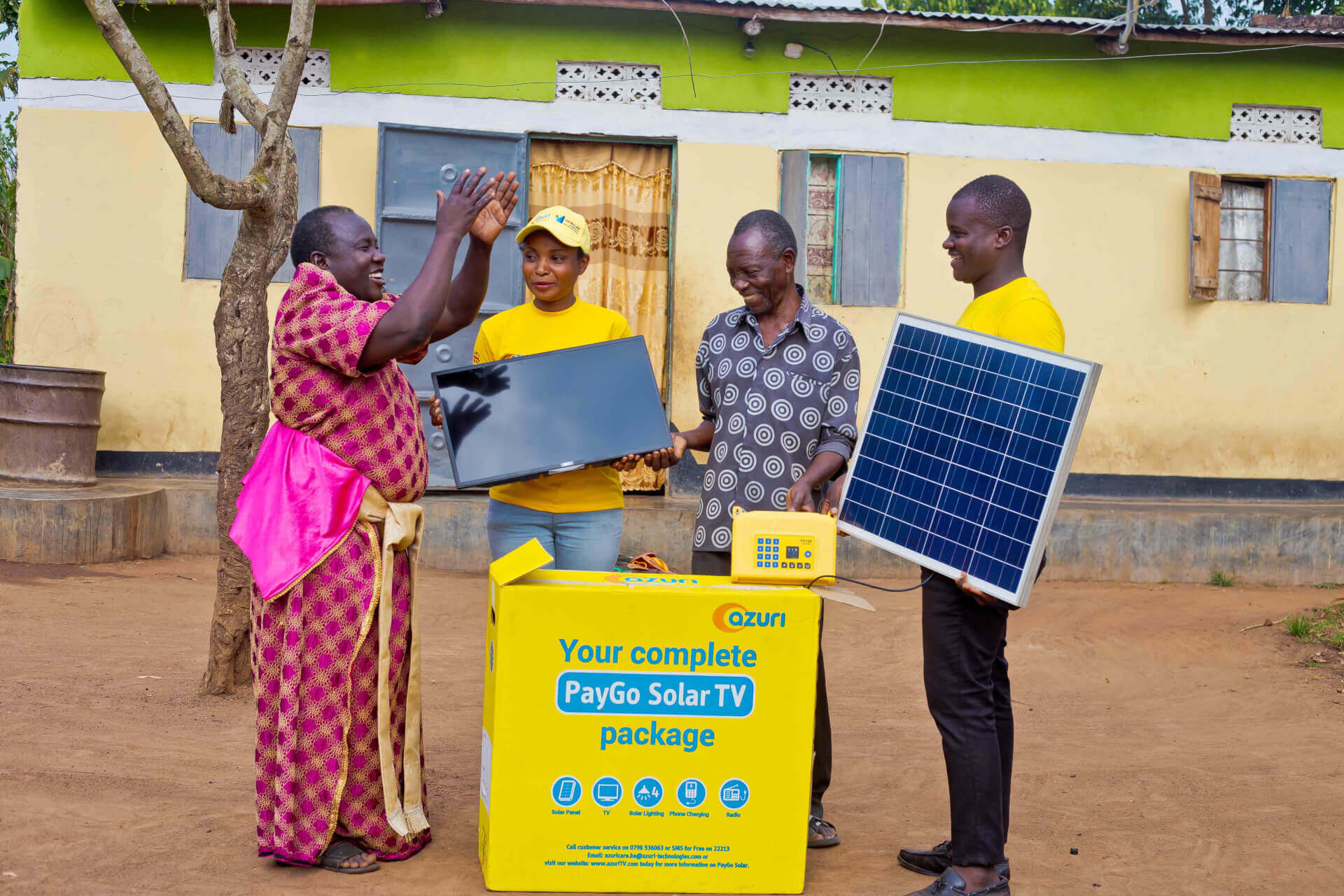 Azuri Investing case study
How Energise Africa has helped Azuri to connect off-grid families in rural Kenya, Tanzania, Zambia and Uganda.
Amount raised
£5.7 million
Azuri Technologies - connecting off-grid families in rural Kenya, Tanzania, Zambia and Uganda
The Business


Energise Africa has worked with UK-based solar company Azuri since 2017. A world leader in pay-as-you-go solar technology, Azuri combines solar and mobile payment innovation to make affordable, clean energy supply and modern household appliances such as TV, radio, mobile phone charging and lighting accessible to the millions in sub-Saharan Africa without access to conventional power. 


Since 2012, Azuri has sold more than 220,000 solar home systems, positively impacting the lives of over 1million people through access to solar energy. The business has also created more than 5,000 new jobs across sub-Saharan Africa and provides equal opportunities for men and women.
In recognition of their innovation and quality of services, Azuri has been awarded numerous industry accolades, including being ranked the 325th fastest growing company in Europe by the Financial Times in their 2021 FT1000 list. Azuri's vision is to create a level playing field where all consumers can access and benefit from the digital economy, wherever they live.
The Customer  


Azuri customer, Pamela Adhiambo lives in Kenya where she works as a Community Health Worker. Before she had a  solar home system installed by Azuri, Pamela was spending a lot of money on kerosene, as she needed the light it provided to work into the night writing reports for her work. "Kerosene is expensive and I can spend hours at a time writing up reports," explains Pamela. 


Now, Pamela enjoys affordable and reliable solar-powered light throughout the night and her mobile phone is always charged for work. On top of these benefits, her solar light is safer and cleaner than the kerosene lamp she used to rely on.
The Impact
Since 2017, Azuri technologies has raised £5.65 million via Energise Africa over 26 investment bond offers offering investors potential returns of up to 5.5%
This investment has helped Azuri to provide solar home systems and appliances to around 40,000 families in rural Africa, who were living without access to electricit
Switching the reliance on kerosene as a fuel source has resulted in an annual total greenhouse gas emissions offset of around 48,000 tonnes.
To date, Azuri has repaid over £3.9 million to Energise Africa investors.