Posted on 24/06/2019 14:26:14
---
Energise Africa launches industry first guarantee for new investors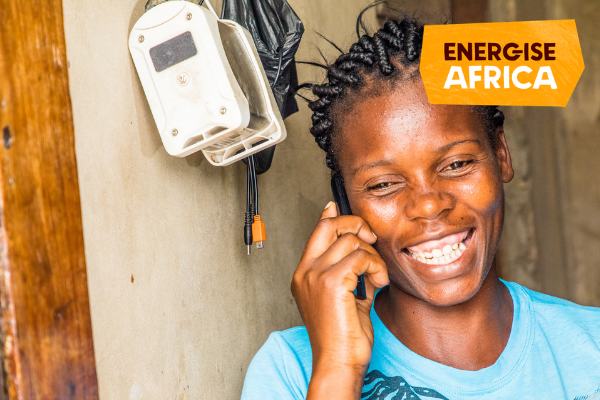 Energise Africa, a leading impact investing platform has today launched a first-time investor guarantee pilot to support customers taking their first steps in starting their impact investing on the platform.
Energise Africa enables ordinary people to invest in bonds issued by pioneering solar companies, allowing them to provide life changing pay-as-you-go solar home systems to low income families and targeting annual returns of 6% for investors. Energise Africa was launched in 2017 by two of Europe's leading social and environmental impact investing platforms, Ethex and Lendahand, who combined have raised more than £110 million from an ever-growing base of more than 20,000 investors.

Under the scheme, all new Energise Africa customers will be offered a guarantee on the capital they invest in their first order, up to £100 in one project. In the event of the issuing company defaulting on the repayments of their bonds, then the guarantee facility will be called upon to repay the investor their £100. If there is no call on the facility, then the funds will be available to provide a guarantee to other first-time investors once the bond has been fully redeemed. These funds will be held in a Special Purpose Vehicle (SPV) whose sole purpose is to provide the guarantee and to hold funds to cover the guarantee should they be called upon. Terms and conditions apply.
Supported by UK aid, Virgin Unite, Good Energies Foundation and the Partnering for Green Growth (P4G) Energise Africa has a community of more than 1,800 investors and partners who have raised more than £8.9 million. Projects are across 10 countries including Kenya, Rwanda, DRC and Tanzania. The platform has successfully closed more than 65 different project raises with investors enabling more than 348,000 people to access affordable clean energy, mitigating more than 76,000 tonnes of CO2 entering the atmosphere each year and have successfully repaid more than £2.6 million back to investors. Energise Africa investments are eligible to be held within the Innovative Finance ISA.
Lisa Ashford, Managing Director, Energise Africa: "Recent events including the climate change protests by schoolchildren and in London, as well as interventions by leading fund managers and the Bank of England highlight the growing need to act now on climate change. We believe that ethical investing is about changing the status quo and ensuring that finance flows to those organisations who are actively looking to protect people and the planet. This pilot is an example of creating accessible products with low minimum thresholds where people can connect with their money to see the direct impact, whilst also generating fair financial returns.
"We firmly believe that this guarantee mechanism will act as a catalyst to encourage more people to put their money into ethical investments and that, over time, these investors will develop the confidence to go on to reinvest once they have gained more familiarity with the platform, investees and the tangible impact that their money can create."

Minister of State for Africa, Harriett Baldwin
: "Solar power has the potential to transform the lives of millions of people who are still living off the grid. Energise Africa gives the British public the opportunity to invest ethically and help people across Africa to access clean, sustainable energy.
"UK aid's support to Energise Africa is making technology and finance available to help provide power for people across the continent, tackle climate change and deliver the Global Goals."
Coinciding with today's launch, Azuri Technologies, a leading UK-based pay-as-you-go solar company has launched a campaign on the Energise Africa platform to bring clean power to a further 10,000 people in Kenya who have no access to mains electricity and rely on harmful fossil fuels.

Azuri Technologies CEO, Simon Bransfield-Garth: "Currently 600 million people in Sub-Saharan Africa lack access to electricity, which limits their life chances and income opportunities. This innovative financing is helping Azuri to bring affordable, clean energy and potential economic opportunity to tens of thousands of families."
Ethex found that six in 10 people are interested in ethical financial services yet just 17% of those surveyed hold any such investments. Ethex believes that by reducing the risk for these customers, it can reduce the psychological barriers to investing and help build customer confidence in an activity that they may be new to.

During the pilot, investors can deposit a minimum of £50 in one project and can choose the location and term of their investment, typically over two to three years.


Investing in Energise Africa projects via
energiseafrica.com
sites involves risk, including the loss of all of your invested capital, illiquidity (the inability to sell assets quickly or without substantial loss in value), and it should be done only as part of a diversified portfolio.

The investment opportunities on
energiseafrica.co
m are not an offer to the public in any jurisdiction and are available only to registered members of the platforms who have certified that they are eligible to invest. Any person who is not resident in the United Kingdom who wishes to view these investment opportunities must first satisfy themselves that they are eligible to do so under the securities laws and regulations applicable to them. These sites do not constitute an offer of, or the solicitation of an offer to buy or subscribe for, any securities to any person in any jurisdiction to whom or in which such offer or solicitation would be unlawful.

In respect of energiseafrica.com regulated activities, Lendahand Ethex Ltd (the legal entity which operates energiseafrica.com) is an appointed representative of Share In Limited, which is authorised and regulated by the Financial Conduct Authority (FRN 603332).
ENDS
Further Information

In the past eight years UK climate finance has helped provide 17 million people with improved access to clean energy globally.