Introducing iProcure - a tech solution to Kenya's agricultural supply problems
Introducing iProcure - a tech solution to Kenya's agricultural supply problems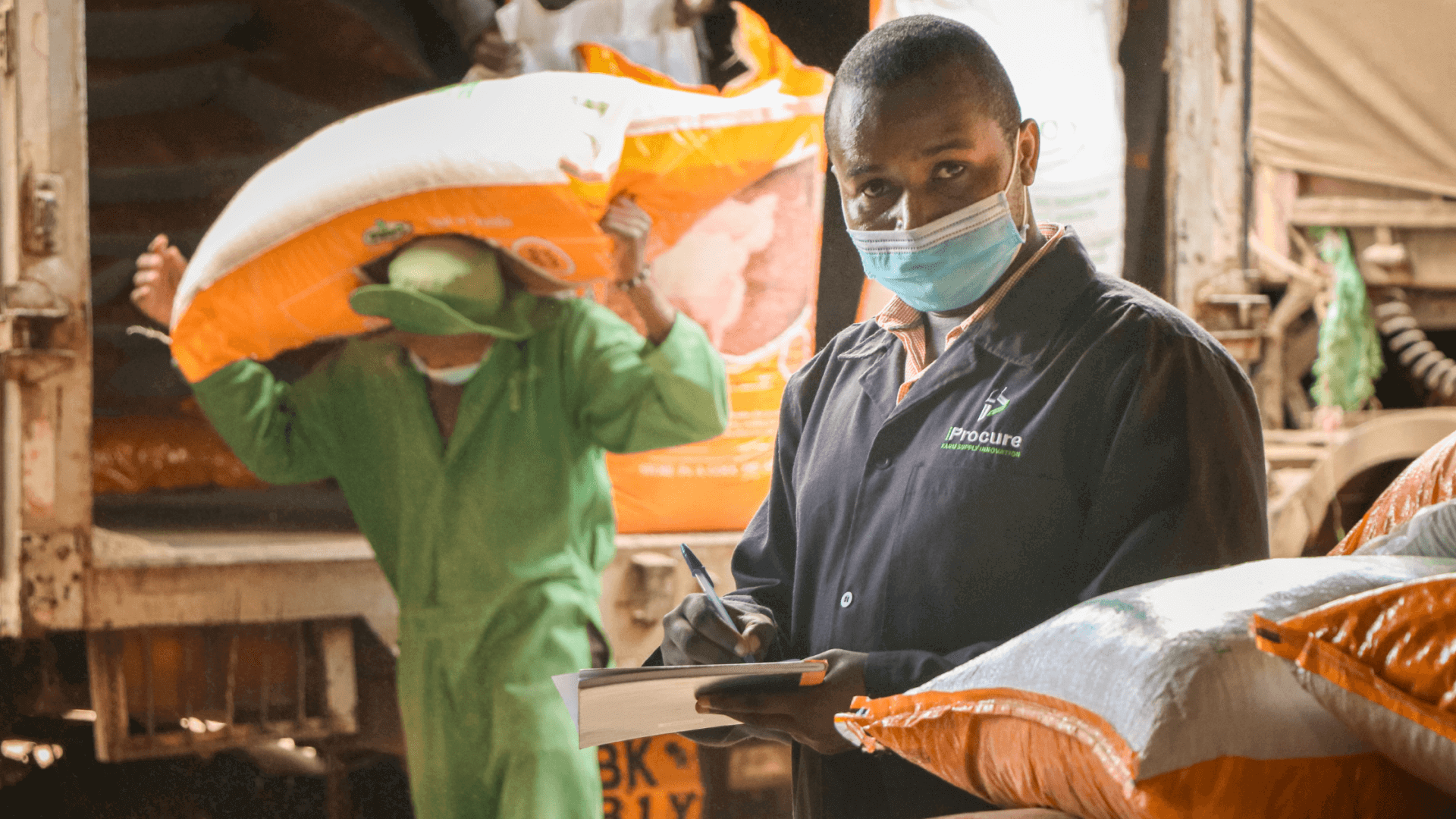 At the beginning of the year, we announced that 2021 would see a new chapter for Energise Africa as we expand our scope beyond solar energy access.

We are pleased to introduce iProcure to the Energise Africa platform, who run rural Africa's largest agricultural supply chain platform. In the run-up to the offer launch, we paid a visit to one of iProcure's many warehouses in Kenya to meet the team, perform due diligence and learn more about their day-to-day operations and learn how iProcure's pioneering technology and innovative approach to transforming the agricultural supply chain is benefitting lives in rural Kenya.

Who is iProcure?
iProcure is helping to solve some of the problems faced by smallholder rural farmers in Kenya by offering better access to vital agricultural products and "last-mile" distribution services. Through pioneering real-time business intelligence, iProcure works with major producers, suppliers and local distributors to ensure smallholder farmers can access the resources they need and minimise price fluctuations.

What is the problem?
Two-thirds of people living in Kenya rely on agriculture for their livelihoods and survival. The vast majority of these are rural, smallholder farmers who are reliant on vital agricultural inputs to ensure their livelihoods - without a successful harvest, smallholders have no means of earning money or sustaining their business or family.

Local agro-dealers (small local retailers) are a key link in supplying these smallholders with vital farm supplies, such as feeds, seeds, and fertilisers. However, due to the remote, rural locations of end customers, and challenges in logistics and communication along the supply chain, products can be scarce, and suppliers struggle to predict demand. Product availability has a direct impact on price, as scarcity can make in-demand products very expensive, and cheaper, alternative products impact quality. The bottom line is that farmers can find it hard to get the agricultural inputs they need and can rarely be sure how much they will have to pay for them.

The lack of visibility in the distribution network, with suppliers not knowing who needs what, when and customers not knowing what is available or delivery timings, has a huge negative impact on smallholder farmers, who face harvest failures and loss of livestock if they cannot access products in a timely, affordable way. 

Add to this the fact that a recent report shows 1.4 million people in Kenya are facing food insecurity and farmers there have been suffering from economic stress caused by Covid, climate change and the lack of rural infrastructure and the need for a working solution becomes more urgent.

What's iProcure's solution?
iProcure's works as a connector between the major producers of agricultural products and the local suppliers who serve rural smallholders. Their innovative data systems allow customers to see the full picture of stock requirements. IProcure's technology supplies real-time tracking of who is buying products, and in what quantity so they can keep track of inventory and sales, minimising the risk of stock-outs and reducing price fluctuations.

As well as developing technology that makes supply chain distribution more transparent for suppliers and customers, iProcure have a number of warehouses that are strategically placed to serve even the most remote customer, and their predictive algorithms can make sure that the products that are in demand are always available. This means customers have accurate delivery timings. iProcure's insight also enables them to set recommended retail prices, creating a fairer deal for end-users. 

Putting knowledge in the hands of the customers
iProcure literally put their knowledge and expertise directly into the hands of the customers, as they supply hand-held tech devices that allow agro-dealers to track their sales and supplies. Jacob, an agro-dealer we met in rural Kenya says of the device:
"It gives the stocking, the sales, the balances, it is very nice. It will show you the stock, sales, what you've put in, profits, net income, it is very advantageous."
The tech supplied to iProcure's customers also helps the larger suppliers to provide direct after-sales support to them and launch customer loyalty programs.

How will investments through Energise Africa be used?
Funding from this bond offer will help iProcure to increase inventory and revenue to serve more customers, meaning more smallholder farmers in rural Kenya can benefit from an affordable and reliable supply of agricultural inputs.

Please note that, with investments such as this, your capital is at risk and returns are not guaranteed.