We've raised £25m for climate action and SDGs!
The Energise Africa Investor community makes great things happen.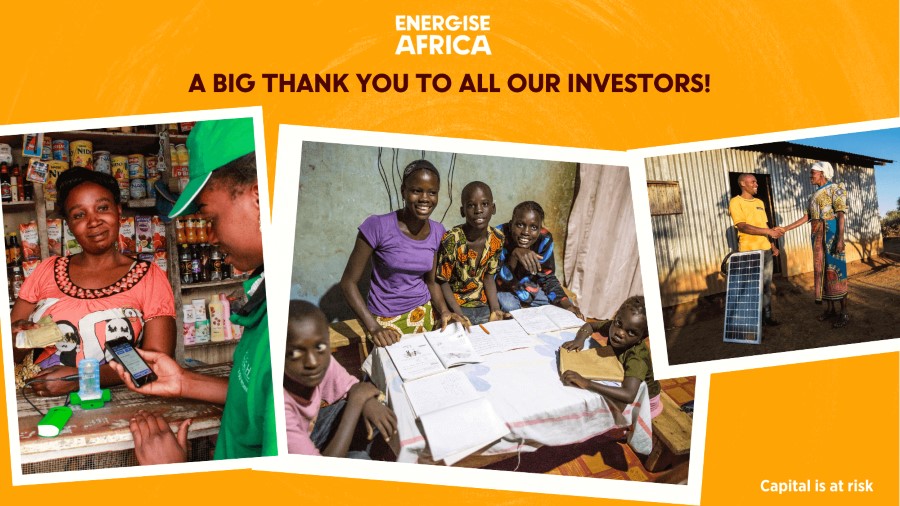 August 2021 is an incredibly important month for the team at Energise Africa! It's been exactly four years since we launched our first investment offer, and this month we are delighted to announce that we have passed £25million invested via the platform. 


Thanks to the support of our 4,200 strong investor community, we have raised over £25 million for renewable energy companies operating in Sub-Saharan Africa and beyond. These investments have financed 128,448 solar power systems, from a single reading lamp to entire home systems, complete with lights, fans, radio and TV. With our investors' support, over 600,000 people in off-grid communities across sub-Saharan Africa now enjoy access to clean, affordable electricity, and all the life-changing benefits that go along with it.

Not only do these solar home systems avoid 130,000+ tonnes of harmful CO2 from entering the atmosphere each year, but they also enable low-income families to earn some much-needed extra money. Using GOGLA's standard metrics, we estimate that solar home systems financed via Energise Africa have enabled benefitting households to generate more than US$20 million in additional income over the last four years (that's about £14.6 million). 

And that's just the beginning! Did you know that around 20% of investments raised on Energise Africa don't go to household solar? Instead, they are financing renewable energy projects for micro, small and medium enterprises (MSMEs).

£5.125m of the finance raised on the platform to date has provided:


• 552 solar-powered water pumps for smallholder farmers in Tanzania and Kenya
• 280 solar fridges and other appliance systems for small businesses to expand their storage and product lines
• Solar power systems to 55 schools and clinics in rural Kenya
• 4,636 solar lights for fishing communities in Tanzania
• And 7.8MWp installed capacity for mid-size companies in Ghana, Kenya, South Africa and India


We couldn't have don't any of this without our supporters and investor community, so from everyone here at Energise Africa, and from all the companies that we have supported over the years, we would like to say a huge thank you! 

Capital is at risk and returns are not guaranteed.